MALE SPORTS REPORT
Cricket: QF IH's 2015 cricket campaign was a bitterly disappointing one as, despite going in with high hopes of making it three Premierships in a row, we fell short at the Quarterfinal stage, failing to take our chances in the field against St. Mary's. As they say, catches win matches. 

Star Player: Kaveesh Jayasuriya. What can't this man do? He can smash down Vodka like it's tap water and he can seriously play the game of cricket with some fine bowling displays over the 2 games. 

Best performances: Sam Clements' 50 vs. Ormond, Sam Briggs' dynamic display of power hitting against Mary's and James Ramsden's graceful walking of his two golden retrievers from the sidelines.
Men's Athletics: 6th Place The blokes really stood up and were counted for on the track this year with some exhilarating performances and pleasantly surprising results despite weather being nothing short of dismal. At the end of the day it was a sixth-placed finish for the boys as we took down the likes of Whitley, UC and Mary's. 

Star Athlete: Jack Plunkett. First and foremost a Pole Vaulter, this Steven Hooker wannabe showed his all-round ability on the track, competing in a number of events with some great results. 

Best Race: It had to be the last race of the day, which saw the boys (Jorge, Taichi, Jack and Nishq) compete in the 4x100m A Final. Coming fourth into the home straight we looked destined to finish just outside the podium. Enter Hilda's final runner though, who stopped dead in his tracks as he tore his hamstring – allowing Jorge Nicholas to come through and snatch the Bronze Medal.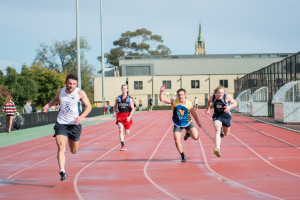 Men's Rowing: We Competed It wasn't a great day for the men's rowing down on the Yarra, as the boys were unable to match the girls' fine display, unfortunately finishing last in their heat and failing to advance to the next round.
The Crew: James Ramsden, Frazer Stewart, Lachie Palmer-Hill, Magnus Barker, Connor Forsyth, William Taggart, Jack Plunkett, Josh Wright, Tai Mourie.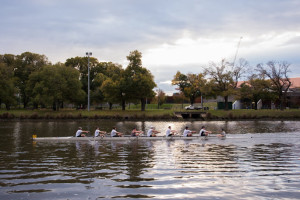 Hockey: Group Stage With minimal hockey experience amongst the IH ranks it was always going to be a struggle out on the hockey field and while we did suffer two fairly hefty defeats, there were definite signs of improvement in the latter stages of the second game.
Star Player: Magnus Baker. Not only did he captain the side but he was also a class above the rest of the team, doing his utmost to get the boys fired up with his technical ability with stick in hand and no-nonsense defending.
Best performances: Michael Kerrison's performances in goal – nothing short of heroic; Liam Bowman's impact also showed he can perform on the field as well as off it.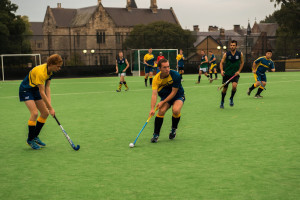 Soccer: QF Similarly to the Cricket season, it was a disappointing end as we went down 1-0 to eventual champions Queen's at the Quarterfinal stage. While our attack never really flourished in the three games, our defence was sensational throughout the tournament, with only two goals conceded in the three games, one apiece against powerhouses Queen's and Ormond.
Star Player: Jonathan Beech. It was a majestic 3 games from Beech who showed his array of skills, tactical nous and ability to 'get stuck in' as he commanded the Centre Back position.
Best performances: Taichi Watanabe's delightful header against Kendall, Jorge Nicholas' pace on the right wing and Sameer Jalees' midfield display vs. Ormond.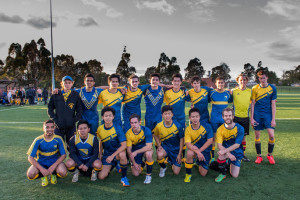 FEMALE SPORTS REPORT
Dear fellow IHers,
With semester one ending, it's time to reflect back on girl's sport: it is safe to say that we have had some fun this semester. With a few minor injuries on the way, especially due to hockey, everyone will be going back home in one piece these coming holidays which is a big success. Making it to Quarter finals in soccer and to the B finals in rowing, the girls did great and we should all be proud of them!
Now it is time to get excited about semester two and the fun sports awaiting for us: netball, basketball, tennis and more are just around the corner to awaken the sportswomen in all of us! If you haven't signed up yet, sign ups are on Nexus or come and speak to one of your sports reps (Jack or Alice) and we will be happy to help you.
You may think you already have a very busy schedule, but physical activity will actually help you be more productive (it is a proven fact!). If you don't care about being productive, think about the gorgeous lean figure you could earn by taking part in one of these sports…
On that note, good luck to everyone for the exams and don't forget to go out and exercise during SWOTVAC, even just a twenty minute walk around princess park will help you clear your head and be more focused in your study!
See you all next semester.
PS: Even if you don't feel like signing up for any of the coming sports, you can show your support by showing up at the games and cheering on fellow IHers. There's also the support committee led by our very cool fresher rep Connor Forsyth that you should check out as it seems an awesome team to be a part of.