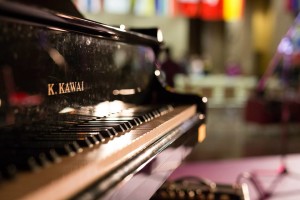 Having had the opportunity to help organise what I thought was a great event, I went down to the dining hall, despite having already listened to all the amazing performances (and 3 assignments due on Monday). And I did not regret it.
Music Night was more or less like sex. The performers being the guy and us, the woman. It was their job to satisfy us, and they did! Fittingly, the night was started off by Fourplay, who were outstanding in performing "New perspective"… sung by Brian Kok. It was enough to grab the full attention of those who came down to watch.
From there, we were entertained by various types of performances, from Jay's solo on the Piano, to Inika and Emily's performance. The first half was outstanding, but the most eye-catching performance was probably by "Sounds of Spring". They pulled off "When I'm gone" perfectly. And if that wasn't enough, the first half was ended by the "Chinese Mushrooms" who performed "Teenage Dirtbag". They had Kane on drums, and he did so well that had they not mentioned it, only a few would have realised he had only started playing drums 3 days before Music Night…
Those who came in the second half/hung around throughout the night, got to see "Mason is a Dero" make an appearance, and they were fantastic! Towards the end, Darcy played his first solo in IH, and in my opinion, it was one of the best performances in any IH event this year. The band that played at the battle of the bands was cleverly slotted for the end of the main acts, and a few people from the crowd decided to go in front as Sameer began to rap. The atmosphere in the dining hall at this stage was amazing.
It's difficult to go into detail about each act, but all in all it was a fantastic, well-organised event.