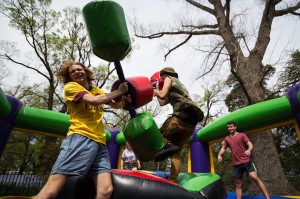 Dew glistening upon blades of grass…
…piercing the verdant sheen with vibrant bursts of prismatic colour.
…You could say the morning was a lazy one…
                                                               …if not the monolithic IH rumble sounded from deep within the jungle.
IH day is nearly upon us! I hope you guys are getting keen for THIS SATURDAY! It's going to be a day of fun activities, chill vibes and basically a great day in the sun for us to spend some sweet, sweet quality time.
Events will be starting off bright and early and it's a day that you'll regret missing! We'll have free slushies! Fairy Floss! A BBQ in the courtyard with beats to match!
Lasertag will turn all of IH into a literal metaphorical warzone. Two teams of 5 will begin from opposite sides of college and will engage in epic battle.
Shooting literal photon death rays doesn't whet your whistle? Well maybe the Gladiator Rock 'n' Roll Bouncing Castle will. Fully equipped with jousting sticks, you must battle to remain on the rocking turntable in the centre of the bouncing castle or face the slight shame and inconvenience of falling off.
Or just have a great time doing flips and/or falling over a lot. But the coup de grâce. There have been whispers.There have been rumours.
Yes. There WILL be a mechanical bucking bull and it will be centre – stage in the courtyard for every IH – er to test their mettle.
Our very own fresher representative Louisa will also be organizing fun team games for everyone throughout the day such as capture the flag and more!
Don't forget that night we will have a HALLOWEEN PARTY in GREYCOURT!
Look ghastly, look terrifying, look like you came from a place nightmares live… And then put on your costume. Add some fluoro colours to look absolutely radiant under a black light and you're good to go! The absurdly cheap drinks menu will be released closer to the date!