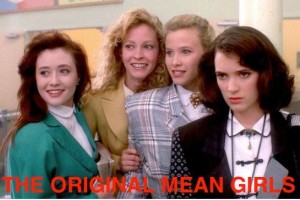 Before there were The Plastics, there were Heathers.
On Saturday night (we had to leave Mr. IH a little early) at the Northcote Town Hall, Gabe and I decided to attend a Girls On Film Festival screening of the 1988 box office flop that has since achieved major cult status, Michael Lehman's dark high school comedy, Heathers.
The film begins with many a cliché and then turns the world you think you know on its head.
Winona Ryder is Veronica, a rich pretty high school student in Ohio, who has come to realise that being popular is not as fun as it should be. She blames this on her friends, the Heathers. Heather #1 (Kim Walker) is a particularly loathsome piece of work, who stops Veronica from associating with her old friend, Betty, uses her to taunt the least popular kid in school, Martha 'Dumptrck' Dunnstock, and pushes her into the path of predatory college boys.
When she meets J.D. (Christian Slater), the new, mysterious and eloquent ("Greetings and salutations") "dark horse", Veronica thinks she's going to break free from the wrath of the Heathers. As the movie progresses, she realises that she's more trapped than ever. This makes an interesting parallel to the external story going on in the film, which centres on teen suicide. I don't want to reveal the entire plot but the themes freedom and metaphorical captivity are pivotal.
J.D.'s character provides a poignant antithesis to the classic teen flick bad-boy and serves as a warning for girls and boys who find themselves attracted to bad-boys. Not every handsome rebel is just a misunderstood hero who can be saved by the power of love. Just a heads up.
This film is absolutely bizarre and ridiculous. When it is funny it is en pointe and when it is serious it is tense. Its most humane moments are often its funniest ("I love my dead gay son!") and I think that it achieved cult status because it is probably easier to laugh at now than at the time of its release. Back in 1988, when John Hughes films saturated the pop-culture scene and people wore scrunchies and shoulder pads like there was no tomorrow, maybe this film hit a little too close to home and proved that teenagers don't know everything (but then neither do adults).
This weekend was the first Girls On Film Festival, which was a crowdfunded project that aimed to celebrate kick-ass leading ladies. Festival Director, Karen Pickering, describes it like this: "we created GOFF to show ten feminist movies that feature women and girls as powerful agents in their own f*cking stories! …our party is a protest and your protest is partying in the face of patriarchy. With movies."
I sincerely hope that this is not the last we see of GOFF and I hope that they can keep their venue! The Northcote Town Hall is beautiful. It was serving us art deco realness and felt like the perfect setting for such a great event. I'm sure Gabe would like me to mention that the popcorn was amazing too.