Since last time round I reviewed a new-released movie, this time I reviewed a classic starring Humphrey Bogart.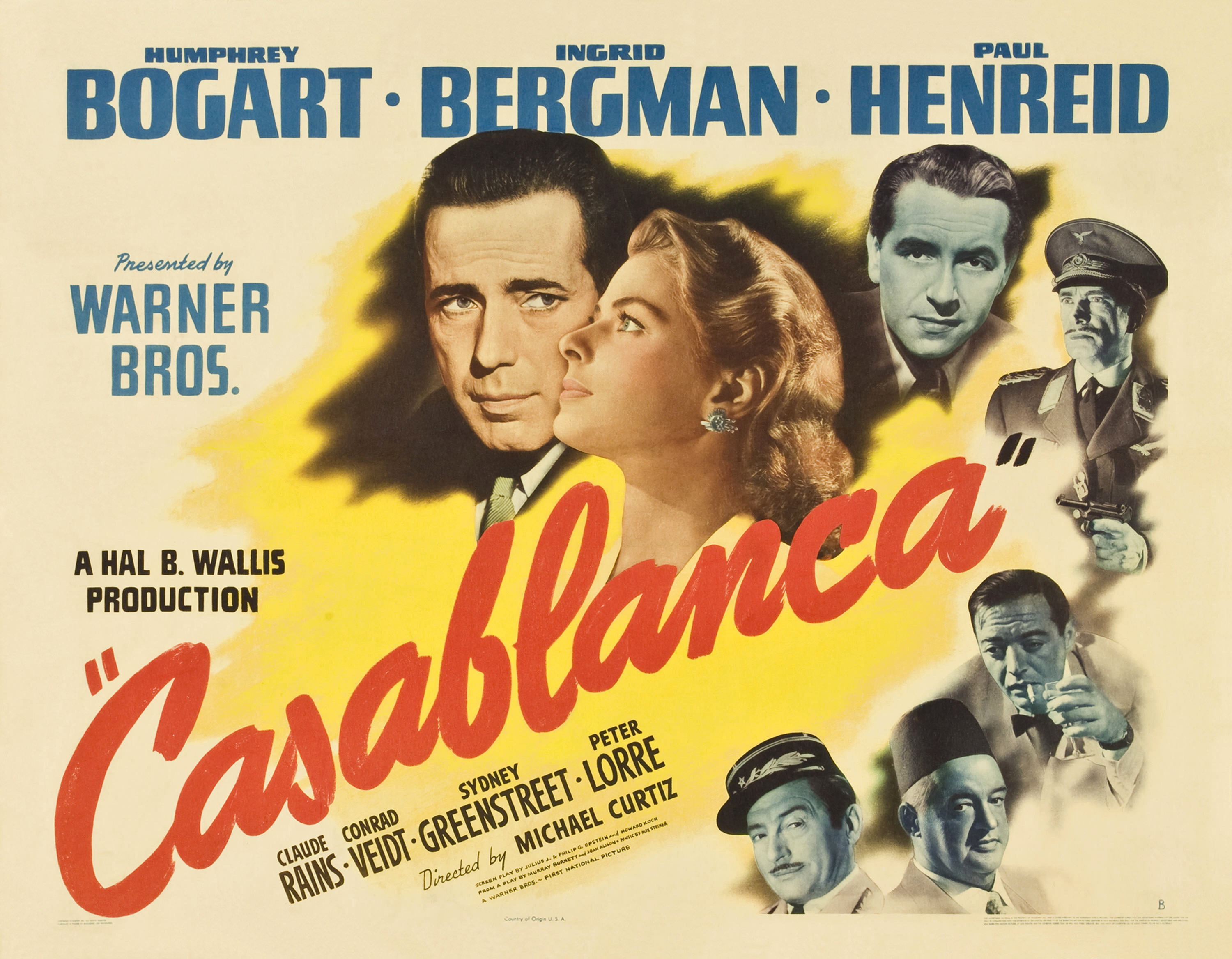 Yes, its the 1942 "Casablanca". Directed by Michael Curtiz, the movie tells a story about an American, Rick Blain (Bogart) living in Casablanca, Morocco. Suddenly, Ilsa, a former lover of Rick, comes back to Rick's life and asks help from him so that she a
nd her fugitive husband, Laszlo can flee Morocco. However, circumstances gets more complicated once it is realized that Rick's feeling for Ilsa has never really faded away.
So Normally before I watch a movie or a play or anything I tend to look at the ratings and then would try to find ways to tell myself not to get influenced by the mainstream ratings. (If a movie is more than a 70% in Metacritic I would find ways to make it look like its below 50%, while if it's a 30%-rated movie I would look to see if it is decent). However, this movie's rating is one of few that I think deserves the overwhelmingly good rating it has.
For a starter, the movie can be unappealing to people because it's black and white and the set obviously looks something like it's made up. However, when you at least give the movie 30 minutes, you soon realise that there is some sort of pull that makes the movie simply enjoyable to watch. By the end, that some sort of pull turns out to be the brilliance of Humphrey Bogart's acting to depict Rick Blain.
Humphrey made Rick Blain the most elegant, charming person I've seen in any movie, which kind of made me want to be him (pshh). Also, probably a deeper reason, is that Rick's emotions and reactions towards what he feels have also moved me (maybe to anyone who watched this too) into thinking deeper about how love can make you stronger and make you vulnerable at the same time. Humphrey's chemistry with Ilsa (Ingrid Bergman) also made the romance one of Hollywood's classics as we could see how Ilsa just could not resist Rick (justifies how an ended relationship never really ends).
Another important aspect to why this movie is incredibly good is how the setting and atmosphere have played apart. The exotic and sometimes mysterious Casablanca, a city that had significant political conflict during World War 2 made the plot more sensible as the conflict in the movie itself depended on the city's situation. However, it is wise to research a bit about World War 2 and Morocco before watching the movie because this way you would know the situation during the movie so you could feel how hard it was for Rick to come up with the decisions he had.  
Overall, this Hollywood classic is truly a must-watch for IHers especially who loves a little romance with a historic setting around it, because the brilliance of the actors and how efficient the production uses its scarce resources makes you appreciate more how classical movies are. I'd give this movie a solid 5/5 stars btw..