The Compassion of Stone Carvers
Earlier this month hundreds of large boulder-like rocks were strategically placed on the streets of Northern Paris, France, to deter migrants from finding shelter in the night on the streets. The atrocity of this blew up immeasurably, and stone carvers from all over the country congregated together to make a change.
The Stone Carvers, in protest of the municipality's actions, moved the rocks out of the way, creating a space for the migrants to seek refuge. The Carvers didn't stop there, instead taking the time to engrave messages into the rocks to the migrants, permanently setting their support into stone (both figuratively and literally).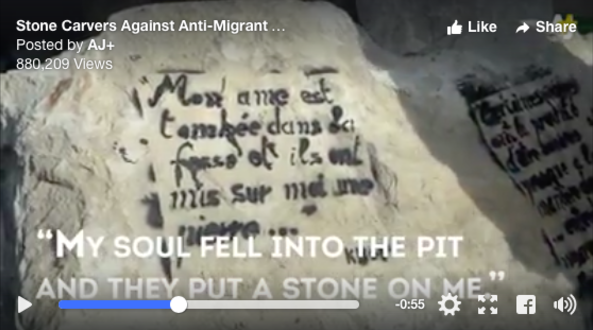 One such message read, "Mon âme est tombée dans la fosse et ils ont mis sur met une pierre," which translates to "My soul fell into the pit and they put a stone on me".
Unfortunately their work was stopped when the police arrived on the scene, nonetheless the Stone Carvers are adamant to persevere in any way they can.
"We will try to do something so when people pass by, they can see something other than piles of stones that prevent people from sleeping," said Richard, a burly Stone Carver, "And to remind (people) we are supposed to be a welcoming country, a civilised country. We are not civilised when we see this."
Approximately 400 migrants were sleeping in the area, unable to move into the incredibly overcrowded migrant center – housing roughly 5000 people – nearby.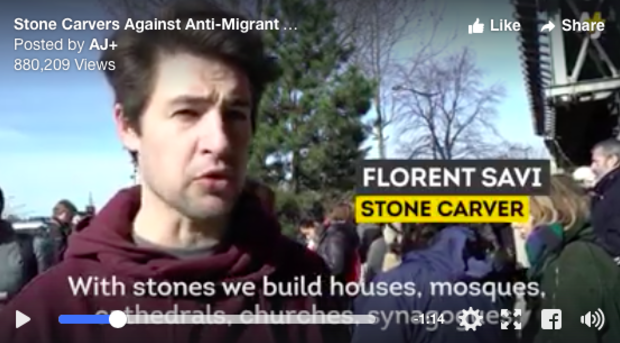 Florent Savi, another Stone Carver, shared his thoughts as well: "With stones, we don't stop people from living. With stones, we build houses, mosques, cathedrals, churches, synagogues. We build temples of life and love."
The Extent of Brotherhood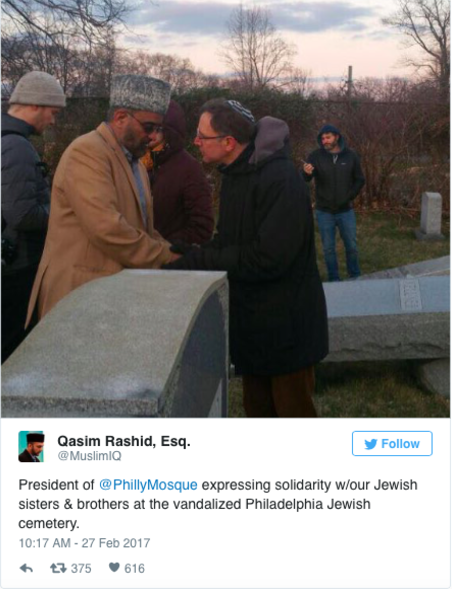 Roughly at the same time but on the other side of the world, dozens of Jewish headstones were vandalized at Mount Carmel Cemetery in Philadelphia, where 75 to 100 tombstones were pushed over. Just a week earlier, nearly 200 headstones were damaged at a Jewish cemetery in St. Louis.
Muslim activist Tarek El-Messidi, who had started a fundraising campaign to help clean up the St. Louis cemetery, sprung to action again after the Philadelphia attack. With a significant surplus of funds left over from previous efforts, work is now being carried out to restore the damage done.
"This attack is not just an attack on our Jewish brothers and sisters, but on our common community," Salaam Bhatti, a spokesperson for the Ahmadiyya Muslim Community USA (an American-Muslim organization) also visited the cemetery and helped in the cleanup efforts, said. "We believe we need to be protecting our fellow humans from this extremism."
Sources: AJ+ and CNN